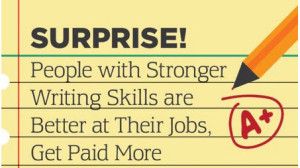 Welcome to the Summer II 2016 session of Technical Writing. The course begins on Tuesday, July 5, 2016.
To prepare for the course, please do these things:
1. Buy the book. If you want the physical copy, you need to order it ASAP so that you have before reading quizzes are due. The ebook version is fine, and you will have it faster obviously.
Markel, Mike. Practical Strategies for Technical Communication. 2nd ed. Boston: Bedford/St. Martin's, 2015.
2. Go ahead and check out the syllabus and the pages on course logistics and the course assignments, if you like. The post for the first day of class will be live next week.
3. If you have any questions, you can log into Canvas and ask in the Discussion forum for Questions about the Syllabus and/or Course Logistics. Naturally, if you have a personal question, you can send me an email message at tengrrl at vt.edu.
4. If you want to know a little more about me, you can read the About Me announcement in Canvas.
[Image: Detail from
Why Good Writing Is Needed for Better Jobs
]
---